A fish finder is a device used by boatmen to locate fish in the water. A sonar device sends pulses of sound waves down through the water. When these pulses hit objects like fish, vegetation, or the bottom, they are reflected back to the surface.
So, let's start with the question- How To Get More Out Of Any Fish Finder? 
First, learn how to recognize fish signs such as schools, giant fish, and predators close to your fish baits. To get the most out of your fish finder, you must learn to view the data yourself. Examine the structure down scan image on the screen, followed by the standard sonar image with the fish arches on the left. Finally, at 50 kHz, fish that are more than 50 cm apart cannot be detected as individual fish. And keep this in mind.
Now, we are just getting started- 
To help you find out the most efficient way to operate your Fish Finder, we have arranged an elaborated article.
Therefore, if you want to get more out of your fish finder, read along! 
4 Procedures To Get More Out Of Any Fish Finder [Explained Elaborately]
It's very disappointing, isn't it? 
Most of the time, not knowing to use the fish finder at its best causes poor catch at fishing. 
To help you, we've explained the best way you can utilize your fish finder-
Learning the Fish Finder's Interface 
It's not anymore from using a smartphone. Any time you buy a new handset, the GUI will be exclusive. To put it another way, each phone's user interface is unique.
Nothing out of the ordinary here; each fish finder has its own GUI. If they are from the same organization, you can see any comparisons. But that's not what we're talking about right now.
It would, like any other electronic device, come with instructions. We should never hope to capture a large number of fish on the first day. We suggest reading the instructions carefully and following them strictly. This would make it easier to get used to the GUI.
It used to be difficult and annoying to work out how to do even basic things like zooming in and out, adjusting the range of the fish finder, or making the screen lighter or darker. However, in general, it is much easier to work out how to do simple functions now than it was previously. It may take many trips for more complex systems to become accustomed to running the machine. It may take a few months of use until you're familiar with all of the various functions and features.
Learning to fix fish finder's Range and Sensitivity 
As you know, it is a machine, and no matter what, it can not be as accurate as human feelings. But it can be close, real close!!
That's where comes the Range and Sensitivity. When set to a 50-foot range on a 10-inch screen, you can be able to easily see a small fish as a dot.
However, if you zoom out to show 100 feet on the same screen, the return will be half the size and appear as a simple speck that is ignored as clutter. That is why you must learn to set the range based on the kind of fish you want to catch.
But another problem you may face, sensitivity.
As we all know, by increasing the sensitivity, we will see more fish. Yaay!! 
But!! At the same time, we will also have the taste of more clutter.  Meaning, we will have the sonar of all kinds of fish, including and excluding the ones we are about to fish. 
On modern down-looking systems, the auto range usually is very accurate. Still, you might want to reduce the range to maximize the portion of the screen that shows the water column rather than the bottom.
You should adjust the spectrum to reach a balanced balance between how far away you can see and how much imagery is shown on-screen.
The same goes for the sensitivity.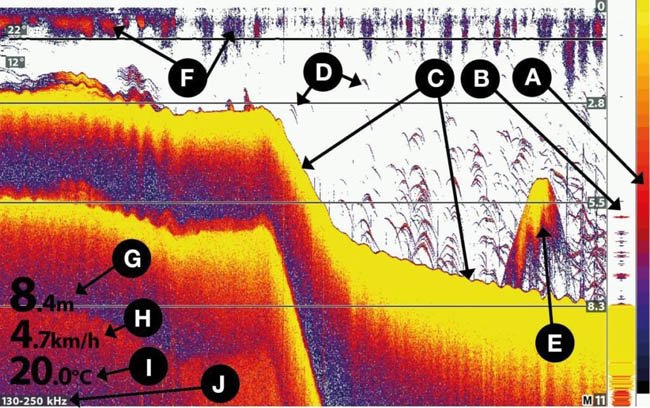 Learning to recognize the fish types with fish finder
This is where the instruction comes in handy again. You will find a clear vision of the interface with the fish type and size. 
As we mentioned earlier, you will have to train yourself for a while to get used to the fish finder you are using.
You'll be able to locate a good number of bass if you know how to use your fishfinder. Learn how to detect fish signs such as schools, large fish, and predators near your fish baits.
Through taking vital signs, you've equipped yourself with the tools you'll need to succeed in your fish-finding endeavor.
Learning to use your fish finder simply
The more straightforward your interface will be, the more fish you will fish. Isn't it obvious?
If you have to adjust it with much complexity, the technology you are using, when will you fish actually, and that is why we suggest keeping the usage simple. 
 Gain knowledge of what to do to modify the depth, identify weeds and structures, spot fish, and find drop-offs. These instruments are highly effective for a wide range of uses, but keep it clear when you start pretty recently.
Keep to basic settings that you can understand and accurately use. You can capture a vast mass of fish if you have an essential fish search method.
By using your fishfinder color palettes, you can keep it pretty plain. Two-color settings are available, one for the Side Scan, one for the Down Scan. To capture more fish, set the necessary settings to prevent incorrect readings.
A few Best Fish Finder you may Find 
To have the best fishing performance, you have to have the best fish finder in the available market. To help you with that, we have taken the liberty to choose a few for you to have a quick look at so that you can easily choose. 
Fish Finders
Specification
Check them out on…

Deeper PRO+ Smart Sonar – GPS Portable Wireless Wi-Fi Fish Finder

In-built GPS

 Dual Frequency 90kHz/290kHz Sonar

 Wireless Wi-Fi Connection

IP X4 Water Tightness

Depth Range:  Up to 260ft/80 m

Amazon

Garmin Striker Plus 4 with Dual-Beam transducer

4.3" Color Display

QuickDraw Contour Software allows you to create Maps with 1' Contours

High Sensitivity GPS for Waypoint Marking and Boat Speed

Simple Setup and Installation

Compact, Rugged Design

Amazon

HOOK2 Fish Finder

Power Supply: 12V

Sonar Max Power: 200W RMS

Sonar Frequency: Wide Angle 200 kHz

Max Sonar Depth: 500ft (152m)

Sonar Alarm: Fish, Depth, Shallow

Amazon

Humminbird 410210-1 HELIX 5 CHIRP GPS G2 Fishfinder 

5-Inch Color WVGA Display

CHIRP Dual Beam PLUS Sonar. Power Output RMS: 500 Watts. Power Draw: 615 mA

Precision Internal GPS Chart plotting with built-in Anima cartography

Micro SD card slot for optional maps or for saving waypoints

Target Separation – 2.5 Inches

Amazon
FAQs
Question: Are fish finders worth the money?
Answer: You will remember that any ship is fitted with a fishing finder while hanging around a marina, a boat launch, or other areas in which fishers are on their boat.
Question: How far out does a fish finder See?
Answer: Humminbird's 360 Imaging Technology is one of the most available. It uses a pull-out transducer that scans 360 degrees electronically and reaches to search the boat up to 150 feet.
Question: What does gain mean on a fish finder?
Answer: The benefit regulates the sensitivity of the sonar receptor to offset water depth and clearness.
Final Words
There you have it!! The elaborated explanation on – How To Get More Out Of Any Fish Finder. Always remember to know your fishfinder well and use it at its best. 
What do you think of this article?

Let us know your opinion, and if anything, we can add more to it. Good luck with your fishing!!